Local Secrets: Cocoa Beach
Posted by Barbara Zorn on Saturday, November 3, 2018 at 1:46 PM
By Barbara Zorn / November 3, 2018
Comment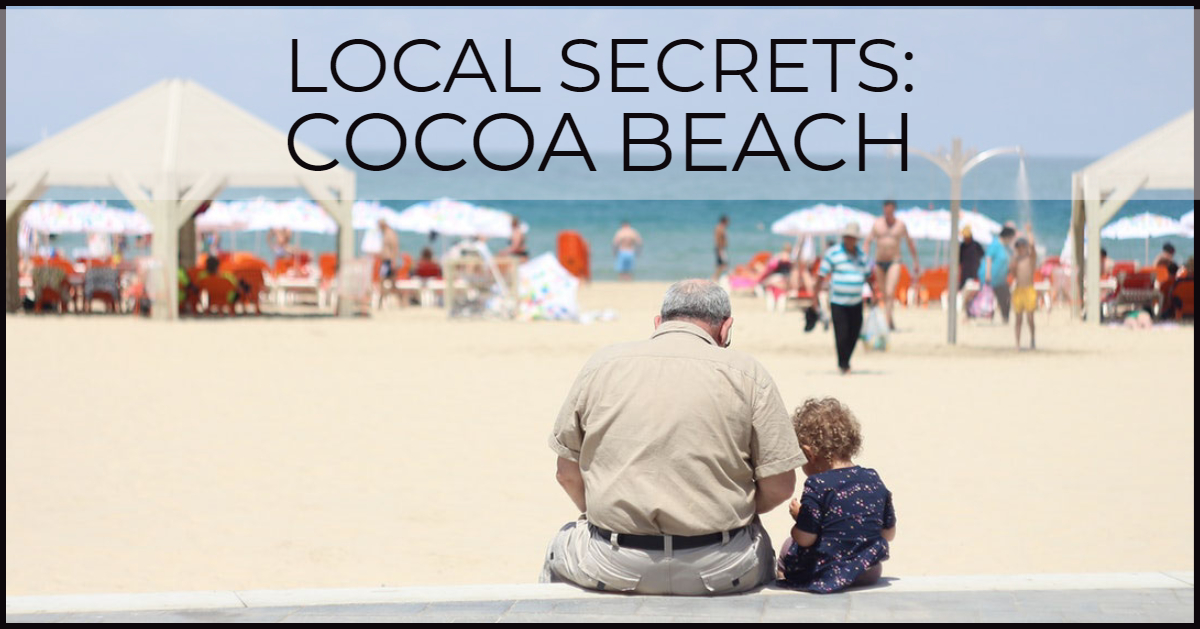 A Local's Top 7 Cocoa Beach Secrets
Even if you know and love Cocoa Beach from past vacations, being a full time resident is a whole new experience. The town may have a thriving tourist industry, but it also contains many secrets that weekend visitors never notice.
Once you settle down in the area, you might find that living in the area is even better than you expected. There are all sorts of ways to have fun. Rocket Launches, Friday Fests, Art Festivals, Farmers Market, Surfing Santas, Boat Races and restaurants are just a few of the things us locals love.
No matter how often you visit the town, there are some things that you only notice once you actually join the residents living in Cocoa Beach.
You Run into Your Friends Constantly
The town might seem like it is a bustling city during tourist season, but you will quickly notice that you see the same familiar faces over and over. I can't shop at Publix or Winn Dixie without running into someone I know.
Whenever you visit the store, go for a walk, or eat in a restaurant, you are likely to see at least one friend. Almost everyone is a mutual friend of someone, so you'll be surprised by how often you see people you know.
You Barely Ever Drive on AIA
When you first visit the area, it might seem like all of your time is spent driving back and forth on AIA. However, locals know that driving on this crowded road during the summer is typically more trouble than it is worth.
For longer trips, most people in Cocoa Beach drive along back roads. For shorter distances, locals often feel like it's easier to park and skip out on the traffic and parking fees. Riding a biking and walking is popular.
No One Ever Abbreviates the Area as "Cocoa"
You might think that it would be way easier to just shorten the town name and drop the "Beach" part, but no one in town ever does that. After living there for a little while, you might even find yourself correcting non-natives when they call the area Cocoa.
Despite the similarity in names, Cocoa and Cocoa Beach are very different. Most residents are happy to live in Cocoa Beach and don't want people thinking they live in the inland town named Cocoa. Cocoa and Cocoa Beach are rival football teams.
Holidays Are the Best Time of the Year
The holidays start with the Turkey Trot where teams carry turkeys across the finish line of this popular race.
Almost all the people living in Cocoa Beach agree that the holiday parades are one of their favorite town events. In the daytime there is the street parade. At night the waterways light up with a boat parade.
The area has many fantastic boat parades that include beautifully decorated and lit up boats.
The Cocoa Beach Pier hosts skydiving Santas and December 24th is the annual Surfin Santas event.
All of the exciting water themed events during the holidays are a truly unique part of being a resident.
Sandals Are Suitable for Every Occasion
The laid back atmosphere in town will probably end up affecting your personal fashion. Though plenty of residents still love wearing glamorous and fashionable outfits, you may find that you can often identify residents by their footwear.
Even on the fanciest occasions, many people still end up wearing flip flops because they're so convenient for kicking off when you take a stroll on the beach. After living here for a bit, you might open your closet one day and realize that almost every shoe you own is some style of sandal or flip flop.
You Almost Never Eat at Franchises Anymore
Cocoa Beach might have plenty of fast food franchises, but most locals know that there are far better options around. With tasty restaurants serving fresh seafood on every corner, you will probably find yourself refusing to settle for less than the best.
Residents love gathering at The Green Room, Florida Seafood, Long Doggers, Fat Kahuna's, Grill's, Tiny Turtle, and Surfinista for meals.
You'll Know All the Surf Lingo
Plenty of people who would never even dream of surfing start shopping for homes in Cocoa Beach just because they want a beachside atmosphere.
Your plans might initially involve a lot of relaxing on the sand or fishing from a boat, but most residents end up with friends or family who surf. In no time at all you you will know the lingo.
The town is one of the surfing capitals of the East Coast. Even if you never learn to catch a wave, you will be "Sitting on the Top of the World" in this quaint little beach town.
Contact your local real estate agent for more information about real estate and living in Cocoa Beach.