Maintaining A Beach House
Posted by Barbara Zorn on Tuesday, October 23, 2018 at 2:35 PM
By Barbara Zorn / October 23, 2018
Comment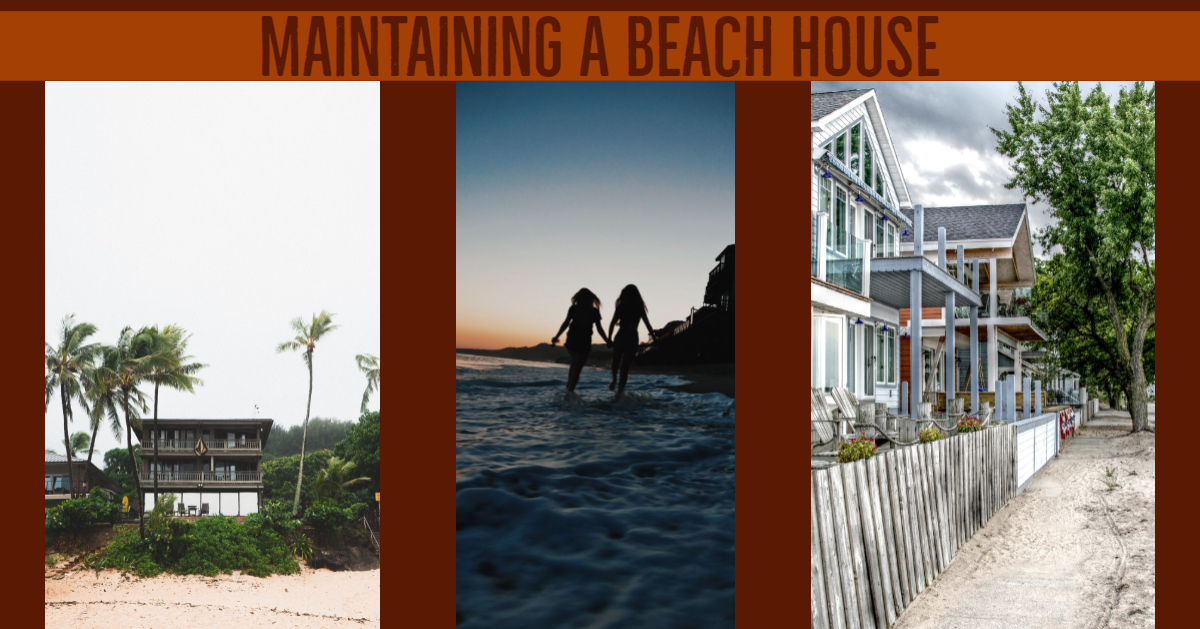 Beach House's And How To Maintain Them
Whether you do it yourself or hire someone else to manage it for you, every house has basic maintenance requirements.
Those who are lucky enough to have a property right along the waterfront may need to take a few extra steps to maintain their home. The dreamy ocean breezes and sunny skies that you encounter while living in a beach town can greatly affect a home's exterior.
Here's what you need to know about caring for and picking your beach house.
Metal Surfaces May Need Special Coatings
Many people living in beach towns find that the smell of the ocean is one of their favorite parts of living along the coast. However, the extra salt in the air can make many types of metal surfaces deteriorate quickly.
Things like light fixtures, balcony railings, and patio furniture may require some extra protection. There are a few naturally salt resistant materials like copper, or you can go with a paint or powder coating that protects all of your outside metal from moisture and salt.
Your Paint Choice Makes a Big Difference
There is a reason that most of the beach houses you see are painted in soft, light colors. Beach towns tend to be bright and sunny from all the sunlight reflecting off of the waves.
This might be great for boosting your mood, but the strong UV rays can break down paint and make it fade. Darker colors tend to fade faster while white may turn yellow, so it is best to stick with light pastels or neutrals instead. Using priming and a quality exterior paint can help to reduce issues with paint fading, cracking, or degrading.
Window Protection Is a Must
For most residents along the west coast of Florida, hurricane season is not quite as frightening as the media makes it out to be. The most important way to avoid flooding and other damage is to make sure that your windows are as protected as possible.
Some beach house owners like to permanently install storm shutters that fold over the window in case of a storm. Others find that high impact glass or temporary plywood covers can help to keep windows safe during strong storms.
Local Caretakers May Be Useful
Many residents in beach towns do not live there year round. If you plan on leaving the home empty for more than a few weeks, it is a good idea to talk to someone about taking care of your home.
To avoid any disastrous problems that require expensive repairs, beach houses need regular checkups. A property manager or property caretaker can regularly flush toilets, run faucets, check for damage, and deal with landscaping.
In case of emergencies, they will be there to let you know about the issue and promptly take care of the home for you.
Beach Landscaping Is Different Than Normal Landscaping
Even if you are an expert gardener, you will find that landscaping along a Florida coast may be challenging. Plants right next to the water often struggle to survive the salt, and even if you live farther inland, the high heat can be a problem.
It is generally a good idea to select native plants that can resist the high temperatures and salt. Florida has many beautiful native shrubs, trees, grasses, and flowering plants that will do well in beachy areas.
Get Expert Inspections
Taking care of a beach house is a little different from taking care of a regular house, so calling in the experts can be quite helpful. Consider a yearly inspection to look for signs of damaged siding, unstable patios, or hidden mold.
When buying a waterfront home it can be particularly helpful to get a land surveyor who can check for erosion or potential areas of flooding. Being informed about the state of your beach house will let you make minor fixes before they become a big problem.
Potential maintenance issues might seem scary if you are not informed, but as you can see, it is actually quite easy to manage the upkeep for a beach house. With a few simple preventative measures, you can ensure that strong winds, bright sun, and salty air do not degrade or damage your home.
Staying on top of maintenance will help you to enjoy your waterfront property for years to come.
Contact your local Realtor for any questions you may have about buying, selling, or renting a beachfront property.