Things to Do in Brevard County This Weekend: 01/25 to 01/27
Posted by Barbara Zorn on Friday, January 25, 2019 at 2:32 PM
By Barbara Zorn / January 25, 2019
Comment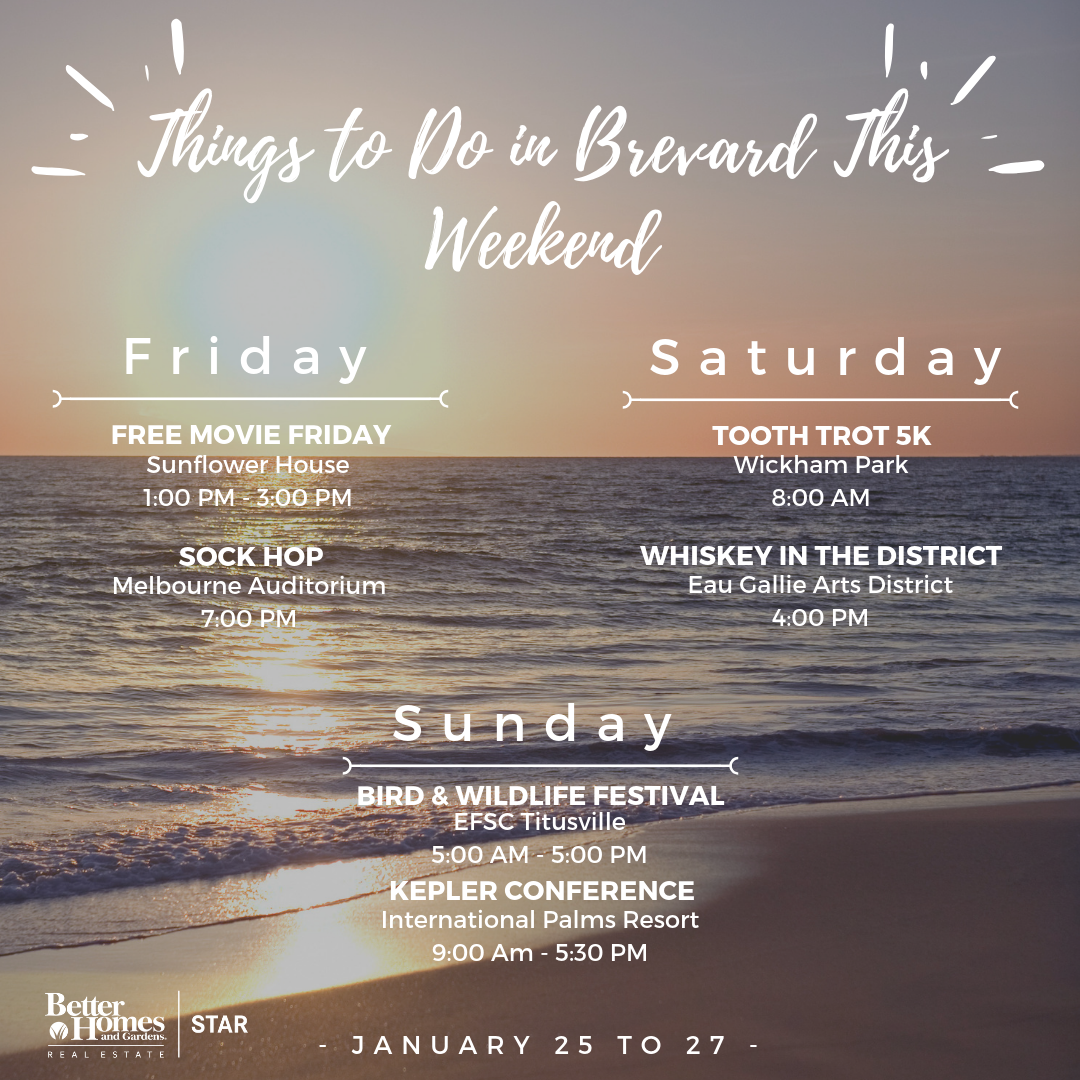 This weekend we have a lot going on in our little county. Starting at 6pm at Eastern Florida State College Cocoa campus is the 51st Annual Gala- The Power of Partnership.
On Friday at the Sunflower house in Merritt Island is the free movie Friday. They will be playing Unbroken: Path to Redemption from 1-3pm. Then at the Franklin T. DeGroodt Library at 3pm is the Jr. Brick Builders. This week will have the theme of dinosaurs. At the Melbourne Auditorium at 7pm is the "Sock Hop," a dancing event featuring music from the 50's and 60's. Before the event at 6pm is a dance lesson with a small fee.
On Saturday, is the Tooth Trot 5k at Wickham Park at 8am. This helps to provide free dental care to children in need within our county. Then in the afternoon at 4pm in Eau Gallie Arts District is the Whiskey in the District. Sample some of the worlds finest whiskeys and some local culinary delights. Later in the evening, at 7pm at the Hilton in Melbourne will be the Mayor's Ball. This ball helps the Palm Bay Disaster Relief Committee.
Also on Saturday, The Coast to Coast Bicycle Company with teaming up with Playalinda Brewing Company. This will be a guided our called "Bike & Brew." It will last about and hour and a half and take you through the Space Coast Birding & Wildlife Festival as well. Bike rentals and helmets are part of the fee, but it is reduced if you bring your own bike.
At the same time as the Bike and Brew, at 11am is the Book Signing "Outside the Wire in Blue" at the American Police Hall of Fame in Titusville.
Then in Cocoa Village, at the Dirty Oar Beer Company will be the Bark Brew Fest from 5pm-7pm on Saturday. It will feature an outdoor Doggie Beer Garden. Proceeds benefit the Great Dane Love, a Central Florida Rescue. So there is quite a bit to choose from on Saturday for outdoors activities, great causes to support and fun opportunities for the family to get out and meet other locals.
All weekend there are several things to do as well. There will be the Kepler Conference at the International Palms Resort in Cocoa Beach. This is an international astrological celebration with evidence-based, research astrology. Then the playhouses all have something they are featuring throughout the weekend. At the Historic Cocoa Village Playhouse, they will be featuring 'Anything Goes.' This rendition of the age old classic will feature music, dance, and laughs. While, the Henegar in Melbourne will be featuring Bonnie & Clyde. The fun story of renowned folk heroes. The further north at the Titusville Playhouse is the La Cage aux Folles. All also weekend is the 22nd Annual Bird and Wildlife Festival in Titusville at Eastern Florida State College.
Can't wait to see everyone out this weekend. I would love to meet some more locals!