Things to Do in Brevard County This Weekend: 02/01 to 02/03
Posted by Barbara Zorn on Friday, February 1, 2019 at 4:52 PM
By Barbara Zorn / February 1, 2019
Comment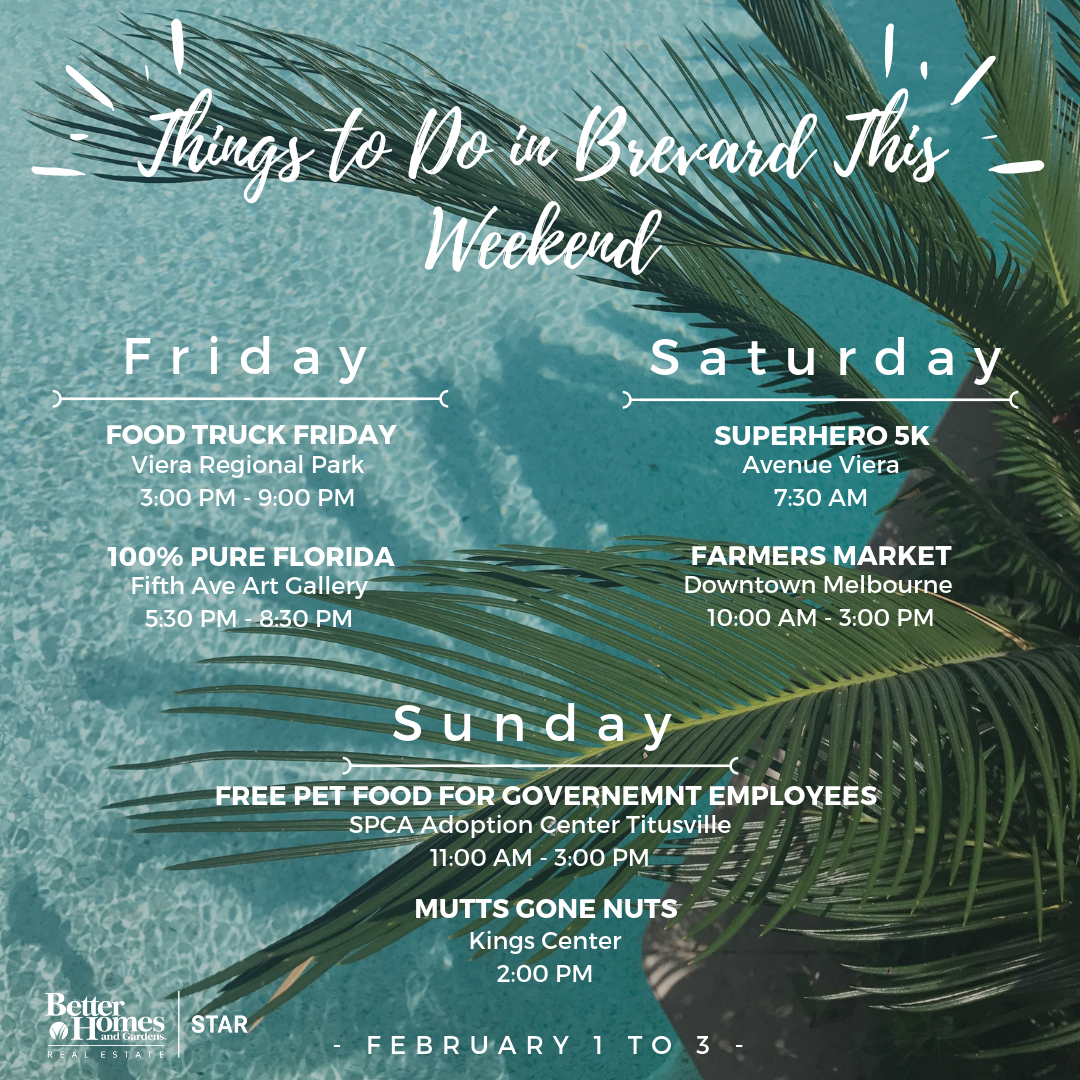 Plenty to do in Brevard this weekend to knock out those winter blues. Tonight from 3pm-9pm at the Viera Regional Park is a Farmers Market and Food Truck Event. The Food trucks get there around 5pm perfect to go straight after work or grab the kids and meet there! This event is family friendly and perfect for the foodie in all of us.
Then at the Hilton Melbourne Rialto Place from 530-830 is the Melbourne Regional Chamber of Commerce award ceremony. This year's theme is 'Let the Adventure Begin.' Guests are encouraged to wear Indiana Jones/Adventure Attire.
Also tonight from 530-830 at the Fifth Avenue Art Gallery is 100% Pure Florida. This Art Gallery will feature art that is on exhibition to be judged against art around the state. Please come and meet our local artists. This gallery is located in the Eau Gallie Arts District so it is also a great opportunity to explore the area. For those who love a beautiful wall murrel, check out some of the street art that inspires us all.
The event that continues to go strong is the Ballroom beginner group class and dance party. This is located at the Melbourne Ballroom at 6300 N. Wickham in Melbourne and goes from 645-10pm. Beginners, singles, and partners all welcome to join. You get a lesson and dance party afterwards to test out your new moves!
On Saturday, start your morning out right with a 5k themed Superhero at 730am till 1030am. This event will take place at the Avenue in Viera and is a fundraiser for Friends of Children of Brevard. This non-profit helps children who have been abused, abandoned, or neglected in our county and helps support the Guardian ad Litem Program. If you haven't heard of them or want to get involved with children in the community that could really use a mentor, please check them out.
Then on Saturday from midnight till 11am at the Love Bugs Bakery is a Princess Pajama Party. There will be meet n greets with the princesses with photo ops and sing alongs. Then each princess will also have the chance to have a donut that goes along with the theme. I heard these tickets sell out quick, so get yours before it's too late.
At the Hans Christian Anderson Elementary in Rockledge is the 2019 Block Kids Building Contest at 9am. This event has a competition with building equipment for kids and face painting for those too little to participate.
Also on Saturday in the morning at 10 is the Junior League of South Brevard's Girl Power Symposium. This is an event where all girls aged 14-18 are encouraged to join for this free workshop intended to provide life skills to build and maintain a healthy lifestyle. This will be held at the Space Coast Association of Realtors in Palm Shores.
Downtown Melbourne will be hosting their monthly farmers market from 10-3pm at Riverview Park this Saturday as well.
Another Princess event is the 2019 Children's Royal Princess Ball at the Azan Shrine Center from 130-430pm. There will be meet n greets and photo opportunities. Everyone needs a ticket except infants, so grab yours early.
If you're looking for a Free Community Event, check out the Eau Gallie Square Amphitheater all day on Saturday. There will be a family friendly community concert event dedicated to the military and the Melbourne Police. There will be music, food, games, and prizes.
On Sunday, the SPCA of Brevard Adoption Center in Titusville from 11-3pm is offering up a free bag of dog and cat food plus litter to Federal Employees and Contractors. This event is while supplies last and is only one bag each per household. You must bring your Federal ID and your Drivers License to participate. This was all made possible by the generous donations made by Purina.
On Sunday at the Kings Center in Melbourne is Mutts Gone Nuts. This show features dogs doing performances. This is deemed a 'Must See' by the Washington Post.
All weekend, The Historic Village PlayHouse continues it's feature of Anything Goes this weekend and The Henegar in Melbourne is also continuing their Bonnie & Clyde performance. Then at the Titusville playhouse is La Cage aux Folles. If you have not had a chance to check one or any of these performances out, I highly encourage you to take advantage of it this weekend. It's the perfect activity for rainy weather too!
Also all weekend at Kiwanis in Merritt Island is a unique treat for our area. There will be a Rock, Gems, and Jewelry Show and Sale from 10-5pm. This event is hosted by the Central Brevard Rock & Gem Club. There will also be activities, a silent auction, hourly door prizes, and a grand prize drawing at this event.