Things to Do in Brevard County This Weekend: 02/08 to 02/10
Posted by Barbara Zorn on Friday, February 8, 2019 at 3:56 PM
By Barbara Zorn / February 8, 2019
Comment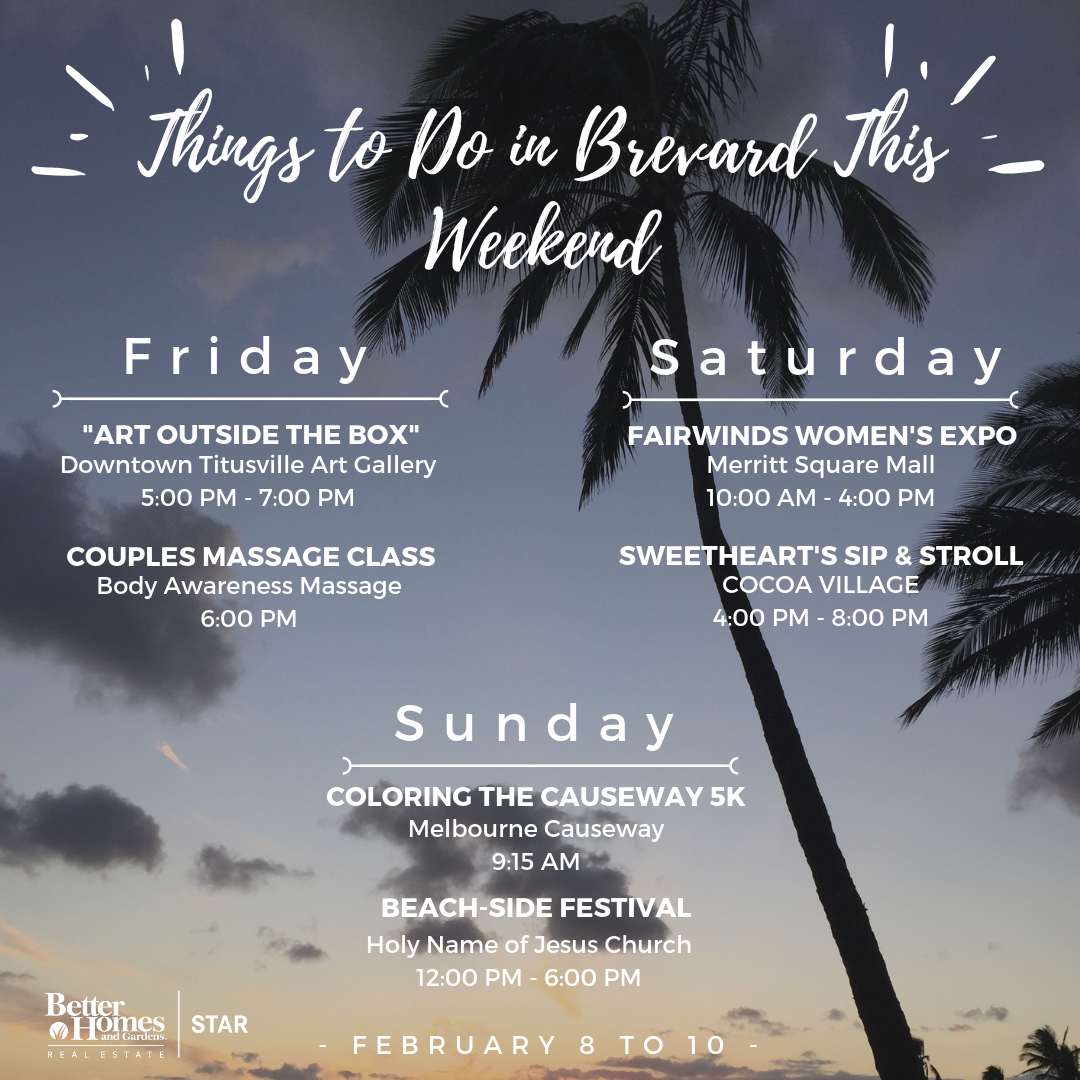 This weekend will be slightly warmer than we have been experiencing, however, watch out for rain! Love is in the air as well, check out some of the things going on in the area!
This Friday, there will be Art in the Park at the Franklin T. DeGroodt library in Palm Bay. This event is free and from 3-4pm. This event is for kids aged 5-12 and this week they will be making coffee filter flowers. Registration is required for this event, to register visit Youth Services.
On Friday night from 5-830 will be a can't miss event. It is the 2019 Cape Canaveral Lighthouse Foundation Gala. The price is $100 and includes Transportation to and from the Exploration Tower to the Lighthouse here in Brevard County. The funds raised will help to continue the legacy of our lighthouse and to maintain its continuous restoration. Food will be catered by restaurants in the Port like Fishlips, Wild Ocean Seafood, and Rising Tide Tap. There might even be a Delta 4 Rocket Launch, however, this is a separate entity that happened to fall on the same night! Get your tickets ahead of time because each attendee has to send in a photo of their drivers license or government ID and a form for security access.
Have you ever driven by those big silver boxes alongside the road and thought what an eyesore compared to the picturesque landscape all along our county and the waterways? Well, the North Brevard Art League, Greater Titusville Renaissance (GTR) and the City of Titusville sought out to change that. They worked together with local artists to create beautiful works of art on those big silver boxes. Each art piece uses different styles of art and features art reflecting the Titusville history, environment, and unique position as the Gateway to Nature and Space. From 5-7pm on Friday, the Debut of these boxes will take place at the Downtown Art Gallery. Major Walt Johnson will also make an appearance to this event.
Want to do something unique for Valentines Day? How about take a Couples Massage Class at the Body Awareness Massage, LLC. This event is on Friday at 6pm. Learn how to give each other massages for up to 45 minutes and not get tired from doing so. Skip the candy and flowers, give them what they really want. A nice massage.
Wine, painting, and a good cause? I can name a few girls (and guys) who wouldn't say no to that offer! Pinot and Painting is an event that for $30 you get your painting supplies plus wine and appetizers provided by Autumn House. The painting will be directed by watercolor artist, Susan Blakeslee. Susan will walk you through step by step how to create the perfect watercolor scene. This event is located at Viera at One Senior Place (8085 Spyglass HIll Rd, Viera) and the fundraising efforts will go to the American Heart Association Walk all taking place on Friday from 6-7pm.
Starting early Saturday morning at the Brevard Zoo is the Terrapin Trot 3k. This starts at 7am and is a 1.86 mile course. After the race, participants can choose to enter the park for half off as well. So this can be made into a full day event.
At the Palm Bay Police Range will be Annie Oakley Festival. This runs from 9am-4pm. It is a fundraising event for Palm Bay Swat team. Anyone is able to join whether you have ever shot a gun or not. There is a safety information seminar and instructors there with you the entire time. All ammunition is provided for you and you can try out guns of all sizes.
At the Sams House/Pine Island and St. Luke's Episcopal Church from 10-4pm on Saturday will be a Pioneer Day. This is a festival for the whole family and will feature food and education about early settlers in Merritt Island. Take a step back in time and learn about the history of Merritt Island.
At the Melbourne Square Mall there will be a Kidz Club Bestie Bash. It is a free event where kids can enjoy crafts, face painting, games, and entertainment.
On Saturday, at the Merritt Square Mall from 10am-4pm will be the Fairwinds Womens' Expo. This event is free and all raffle tickets go to support Combat Human Trafficking.
At the Viera Baseball Fields on Saturday beginning at 9am (for registration) is a kickball Tournament for the whole family. This tournament is a fundraiser for No Bad Days Foundation, which helps kids with disabilities in Brevard County purchase life-improving medical devices and other necessities. There will be lots of raffles, family activities, and the Sheriff Office will be making an appearance.
Also on Saturday, at the Port Canaveral Terminal 1 from 5-9pm. A live band will entertain guests as they check out the vendors and try out all the chowders in the chowder cook off.
Then from 7-10pm at the Ole Fire Grille in Melbourne, will be a Roaring 20's Speak Easy Party. It is a cover charge that includes buffet dinner, cocktails, and more. The funds raised go to Brevard Montessori Private School. There will also be silent auctions, cigars, and more!
Champagne and Chocolate? There will be a sweethearts sip and stroll event Saturday evening from 4-8pm at the Historic Cocoa Village. Check in for the event is at the big Gazebo.
On Sunday, start your day off right at 9:15am at Front Street Park. There will be a 5k walk called Coloring the Causeway for a cure. Participants are asked to dress in their cancer color of support that they choose and walk to end cancer. Proceeds benefit two local cancer organizations, Florida Cancer Specialists Foundation and SCREW Cancer.
All weekend long, there are also a few events to check out. Holy Name of Jesus Church will be hosting a Beachside festival featuring rides, games, and food. This event is for all ages and you do not need to belong to this church to attend. They will also have Unlimited Ride Wristbands. The times vary, Friday 5-11, Saturday noon-11, and Sunday noon-6pm.
Also all weekend, is Red. This is an abstract masterpiece and will be featured at the Henegar. While that is going on, the Titusville Playhouse will be featuring Love Letters.