Things to Do in Brevard County This Weekend: 02/15 to 02/18
Posted by Barbara Zorn on Friday, February 15, 2019 at 4:14 PM
By Barbara Zorn / February 15, 2019
Comment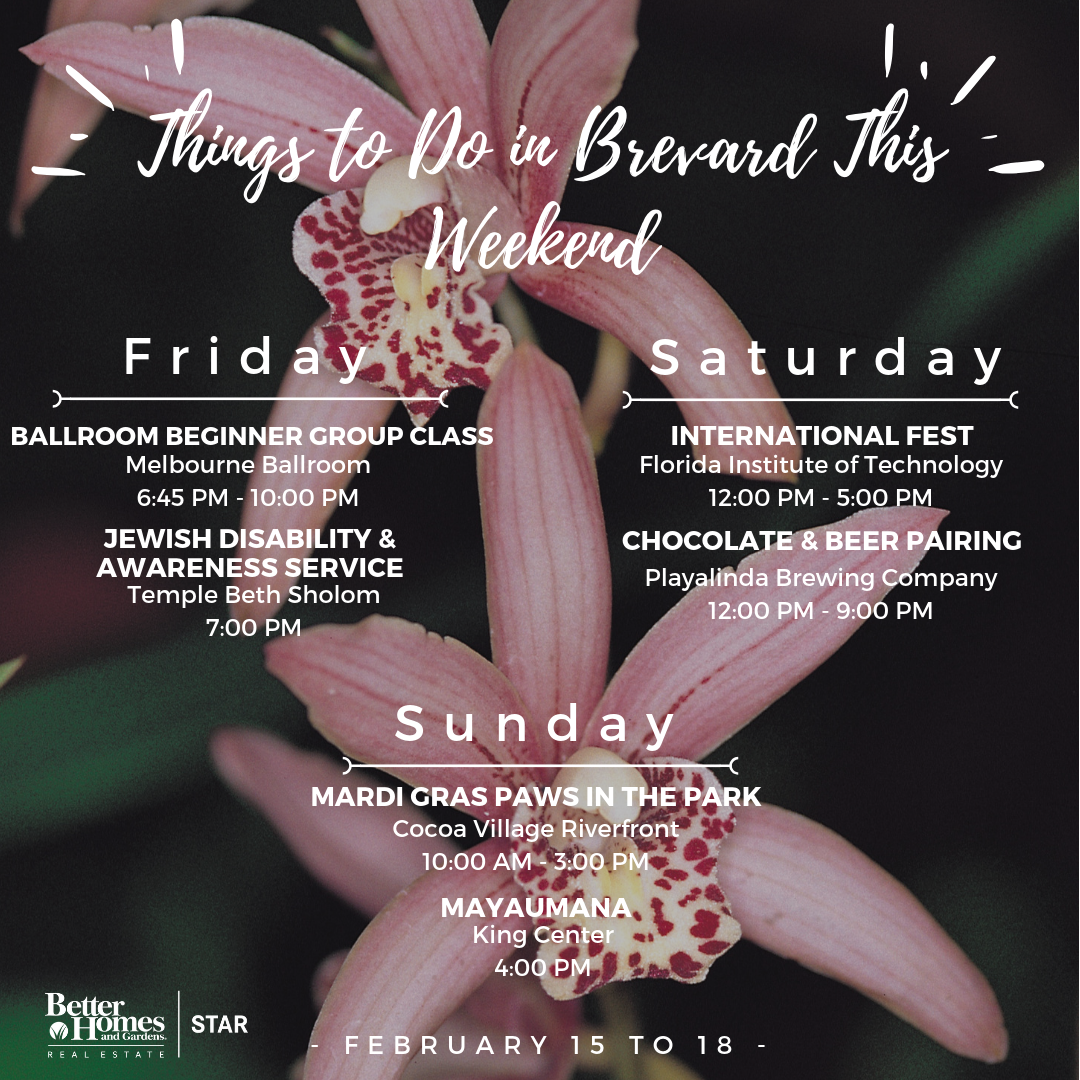 I hope everyone had a lovely Valentines' Day and has off Monday for Presidents' Day!
With all the Brevard County Public Schools closed on Monday, I know everyone is looking for something fun to do over this long, beautiful weekend.
On Friday, at the Franklin T. DeGroodt Library in Palm Bay from 3-4pm is Tales for Tails. This interactive event occurs every third Friday of the month. Children ages 12 and under are invited to read to a companion. The therapy dogs are limited and reading is on a first come, first serve basis so get there early.
Continuing the Valentines Day love, on Friday and Saturday at the La Cita Country Club in Titusville is '3 Days of Valentines-Dinner.' From 4-8pm they will be serving a delicious five course meal for you and your loved one. Reservations are required and their phone number is 321-383-2582. Don't forget to dress in country club casual (no denim).
Looking for something new to try out? Singles and couples are welcome to the Ballroom Beginner Group Class and Dance Party located at the Melbourne Ballroom from 6:45-10pm. There is a beginner dance class followed by a Ballroom dance party. No experience necessary.
In Melbourne at the Temple Beth Sholom at 7pm, the Brevard Jewish Inclusion Network is celebrating Jewish Disability Awareness & Inclusion Month. There will be a special Shabbat Service where all are welcome to attend.
On Saturday, Florida Tech is hosting an International Fest at their outdoor Panther Plaza from noon to 5pm. This festival is open to the public. There will be performances, food and hands on experiences. This school located in our space coast has students that represent over 100 countries.
Also on Saturday, in Cocoa Village from 5pm-11pm will be Mardi Gras. There will be a family friendly parade with floats and street performers. Along with cajun food and activities for everyone to enjoy. No pet are allowed, but children under 12 are free. Don't worry there is an event Sunday for the dogs.
Also Saturday at 8am is the 10th Annual Brevard PALS 5K Run/Walk for Autism Awareness. This will be at the Scott Center for Autism Treatment at FIT in Melbourne. The proceeds benefit families affected by Autism in Brevard County.
Also Benefiting the same center for Autism as the walk is An Evening of Hope Gala is from 630-930pm and will feature gourmet food and cocktails catered by the Green Turtle. This event takes place at a private residence in Merritt Island.
On Saturday, Playalinda Brewing Company from noon till 9pm will be hosting a chocolate and craft beer pairing. Perfect compromise for him and her for Valentines activities.
If you enjoy Afternoon Tea, on Saturday you are in luck. The Sweetheart Tea & Tour will be taking place at the Pritchard House in Melbourne from 2-4pm. This home is circa 1891 so it is sure to be a fascinating tour right here in our own community.
On Sunday, as aforementioned, at the Cocoa Village Riverfront Park there will be a Mardi Gras Paws in the Park from 10-3pm. This event is hosted by the Humane Society. Pets will be in costumes and line up to parade. This is open to the public and admission is free.
Also on Sunday at the Kings Center for Performing Arts at 4pm is the Mayumana. This performance. This performance features a variety of elements and is about the battle for energy source by Thomas Edison and Nikola Tesla.
On Monday, don't forget school is out. The Sandrift Community Center in Titusville has a 'One Day Fun Day' planned that may be perfect for you. The program keeps kids busy with fun and engaging activities all day from 7am-6pm.