Things to Do in Brevard County This Weekend: 03/01 to 03/03
Posted by Barbara Zorn on Friday, March 1, 2019 at 4:30 PM
By Barbara Zorn / March 1, 2019
Comment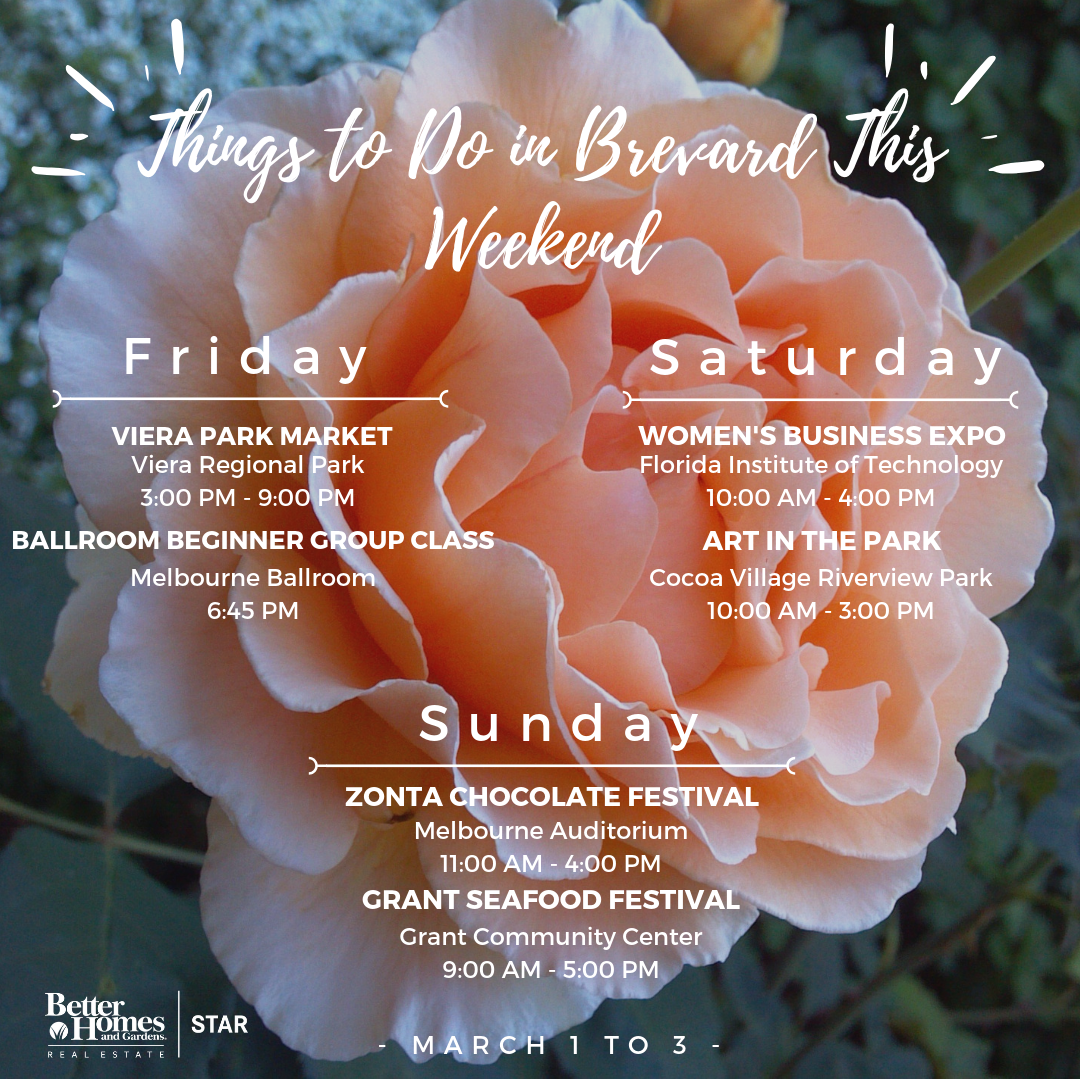 Can you believe we are already in March? This year is flying by, we are almost to Spring Break time!
On Friday at the Space Coast Convention Center in Cocoa at 10am-2pm is the Aloha Brevard Boomer Guide EXPO. This annual expo features information on senior living, health and wellness, music, Polynesian dancers, fire knife dancers, and tons of photo opportunities. This event is free for the general public.
The Engineers Club also meets on Friday at 3pm at the Franklin T. DeGroodt Library in Palm Bay. This event is for aged 5-18 and is free to attend. This week they will be making Paper Airplanes. Registration for these events are key because space is limited.
Friday is also the monthly Viera Park Market and Friday Food Trunk Event from 3-9pm. The Food Trucks come around 5pm if you're like my family and love trying these fun food items out the most. This event is hosted at the Viera Regional Park.
Starting Friday evening if you are looking for something active, the Church at Viera is hosting a 5k run/walk to help end homelessness in our county. This is a fantastic event to help bring awareness to this topic and to raise money to help these families out. The race begins at 6pm. The theme is "No Place Like Home," which is very fitting.
Also Friday evening is the Ballroom Beginner Group Class and Dance Party. This event is at the Melbourne Ballroom on North Wickham Road and starts at 6:45pm.
On Saturday, the Space Coast Convention Center hosts Florida Space Coast Doll Show and Sale from 10am-3pm. There is a small admission fee, but it goes to help a charity.
Also on Saturday, at Riverview Park from 10am-3pm is Art in the Park Market. This is a smaller one than the Village, but also features food trucks, fresh plants, produce, and more.
At Florida Tech CAI Building, the Women Entrepreneurs are hosting a W.E. Mean Business Expo from 10-4pm. This will showcase businesses owned by women in the area. It is free to the general public.
At the Scott Center for Performing Arts, on Saturday from 3-6pm, will be the 6th Annual Every Day is Veterans Day. This event is free to the general public and features a concert. There is a ticket reservation requirement even though it is free. You can get yours by calling 855-252-7276.
Saturday evening from 6-11pm at the Tony Rosa Community Center in Palm Bay is Saturday Night Fights. This is a boxing event is has a ticket price of $10. Children 5 and under are free.
If fighting isn't your thing, the Kings center at 8pm on Saturday is hosting a Bees Gees tribute Band. The band on stage will be Stayin' Alive and they will be playing an all Bee Gee Playlist.
On Sunday, the Melbourne Auditorium is hosting the Zonta Chocolate Festival from 11-4pm. Proceeds from this event benefit local scholarships, community service projects, and the local and international fight against Human Trafficking and Violence Against Women.
All weekend, Thursday-Sunday, the Melbourne Auditorium is hosting a Melbourne Meltdown Indoor Pickleball Championship. To play it is $25, but you can be a spectator for free. This is a new sport trying to gain some recognition. It might be a fun sport to try with your family.
Also this weekend at the Historic Cocoa Village is the Spring Fine Art & Craft Fair. They will have over 200 Unique Artists, street food, and live entertainment.. There is free admission, free parking, and this event is open to children and pets! There were even some pet vendors last time my daughter and I went with her pooch.
All weekend, Saturday-Sunday, at the Grant Community Center will be the Grant Seafood Festival. This event is run entirely by volunteers and the proceeds go back to the local community helping with scholarships to their community library.
With so much to do this weekend, I am not sure which events I am going to make it to! If you see me out and about don't be shy and come say hi.