Things to Do in Brevard County This Weekend: 03/08 to 03/10
Posted by Barbara Zorn on Thursday, March 7, 2019 at 12:06 PM
By Barbara Zorn / March 7, 2019
Comment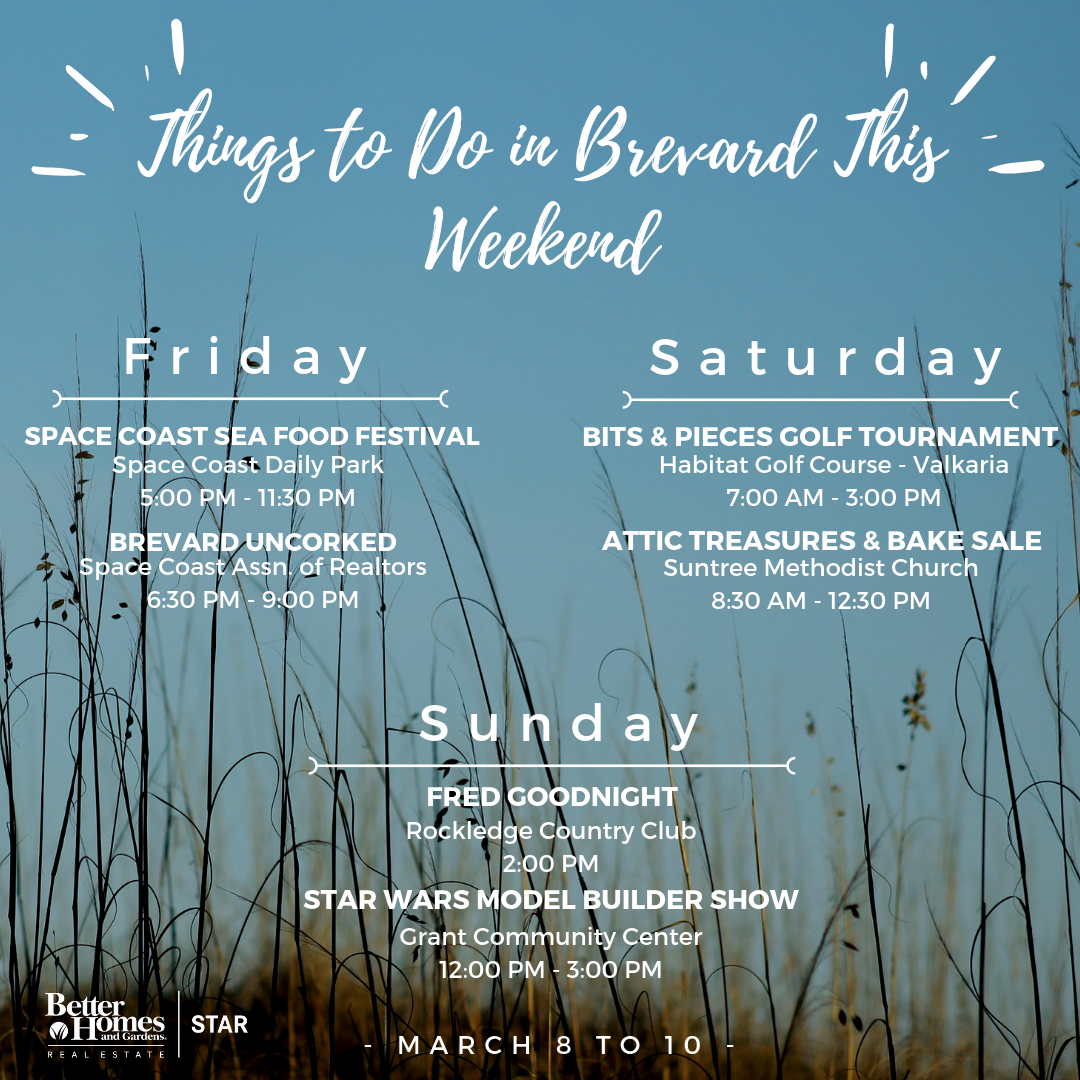 This weekend has a lot going on in Brevard County!
All weekend you can attend the 2019 Space Coast Seafood & Music Festival at the Space Coast Daily Park in Melbourne. They will feature tons of seafood vendors, arts and crafts for little ones, and a performance by the Space Coast Symphony Orchestra among others.
Something unique to see is at the Merritt Island Wildlife Refuge Visitors Center. On display are three local artist's photographs of the refuge. Take a glimpse of what a beautiful place we have right in our own backyard here at Brevard. This event is free and located at 1987 Scrub Jay Way in Titusville. The exhibit will be up till the end of May as well.
All weekend, Palm Bay Magnet High School will be performing BRING IT ON, the musical from 7-9:15pm. The admission price is only $5 and features live music and plenty of quirky fun.
Franklin T. DeGroodt Library in Palm Bay has an exciting event for children on Friday from 3-4pm. They will be making art in the park. This month's project is coffee filter flowers. Children ages 5-12 are invited to participate. The event is free, but registration is required. To register visit the youth services at the Library.
Also on Friday, from 6:30-9pm at the Space Coast Association of Realtors (The Oasis at Palm Shores building) is the Brevard Uncorked. This is a fundraiser with Brevard PALS. There will be delicious tastes of food and scrumptious wines to sample. There will also be a silent auction and live auction. The proceeds benefit a summer camp for children with Autism in Brevard County.
On Saturday is the Bits and Pieces Annual Charity Golf Tournament at the Habitat Golf Course in Valkaria from 7am-3pm. This event's proceeds benefit the American Legion Post 81 with their programs, projects, and veterans services. They still have spots open for golfers, sponsors, and raffle item donations. To participate in the golf tournament place contact management@bprock.com to register.
Also on Saturday is the Brianna Marie Foundation 5k at 8am at Wickham Park. This is a fundraiser to support the advancement of fetal lung therapies.
From 8:30am-12:30pm, on Saturday, the Suntree Methodist Church is hosting an Attic Treasures and Bake Sale. Money raised goes to Daily Bread (a soup kitchen in Melbourne that feeds more than 200 people daily), Devereux (provides behavioral care to children in the area), and the Salvation Army Women's Shelter (provides assistance to victims of domestic violence).
At the Greater Palm Bay Senior Center from noon to 5pm on Saturday is the Hispanic Business Expo, Job and Health Fair. This event has free health screenings and free giveaways to those who attend. If you bring your resume, there is also a recruiting service that will be present to help find job placements.
On Saturday from 6:30-9pm at the Holy Trinity Episcopal Church will be an event for the whole family. It will feature games and help to empower local teens and young adults.
From 7-10pm, Bayside High School Performing Art Center will be performing Granny Del, featuring Delcita and Her Hilarious Grand Pickney, Cotisha. This is a comedy for the whole family to enjoy. Tickets will sell out quick so get your before it is too late.
On Sunday at the Famous Faces and Funnies on W New Haven Ave there will be a Star Wars original model builder showing rare footage and a short presentation. Colin Cantwell designed and built most of anything that flew in the first Star Wars Movie, Death Star and X-Wing to name a few. Meet this man and listen to the incredible stories he has about working on this project. The event is free to attend.
Sunday afternoon, at the Rockledge Country Club at 2pm, Fred Goodnight will be performing. Ticket prices range whether you are a member of the Jazz Society or not, but students can attend for free.
This weekend has so much to do. I have quite a few things on this list you may catch me at. Please come up and say hi if you see me out and about. Have a safe and fun weekend.