Things to Do in Brevard County This Weekend: 03/22 to 03/24
Posted by Barbara Zorn on Thursday, March 21, 2019 at 2:08 PM
By Barbara Zorn / March 21, 2019
Comment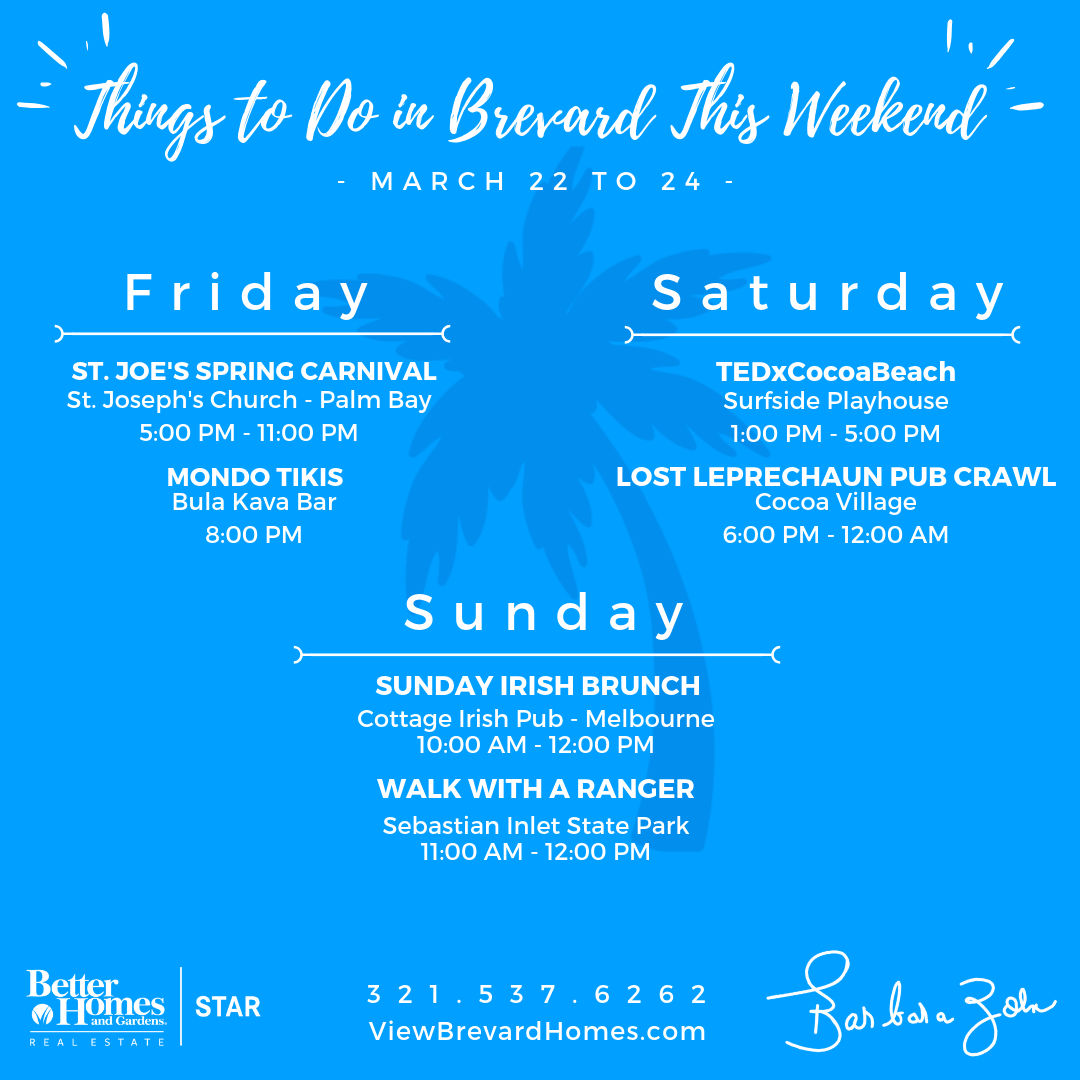 The weekend is here and it's time to relax and enjoy the beautiful weather that's ahead! There are a lot of fun things happening this weekend all over Brevard, so no matter where you are, there's definitely something to do.
Friday
St. Joes Spring Carnival
St. Joe's Spring Carnival will be 4 days of Rides, Food, Entertainment, KidZone, Marketplace and more! Fun for the entire family! Runs from 5:00pm to 11:00 pm Thursday and Friday, 12:00 pm to 11:00 pm on Saturday, and 12:00 pm to 6:00 pm on Sunday. Located at St Joseph's Catholic Church in Palm Bay.
Mondo Tikis at Bula Cocoa Beach
Come chill at Bula Cocoa Beach and enjoy great music in a great atmosphere. Bula Cocoa Beach is an alcohol free hang out serving kava, teas, and coffee. The music starts at 8:00 and goes till midnight.
Saturday
TEDxCocoaBeach
Come open your mind with inspiring ideas. TEDxCocoaBeach's mission is to be a catalyst for positive change by presenting talks on issues that matter to our community and spark a real dialogue about how to make a difference. This event is at the Surfside Playhouse in Cocoa Beach and is from 1:00 pm to 5:00 pm.
Downtown Melbourne Harry Potter 5k
CALLING ALL WIZARDS, SORCERERS, & FRIENDS
It's time to bust out your running shoes, your finest house colors, and maybe brush up your best spells for the Downtown Melbourne's Harry Potter-themed 5K Run/Walk!!
Do you believe in magic?? I DO!!
The magic happens when a community comes together to support each other!
This is the 37th anniversary of the downtown melbourne 5k run and walk. Proceeds benefit THE HAVEN, a shelter for abused, abandoned, and neglected children. Run begins at 7:30 am.
Yoga Outside the Lines: The Art of Flowing
This workshop will begin a 1 hour illustration class for both beginners to experienced artists. During this guided drawing session, participants will draw yogis/models in different yoga poses for everyone to sketch sing charcoal. We will learn tips and techniques on gestural drawing, which will make the drawing process more comfortable for those who have less experience.The second half of the workshop, you will be lead you through a yoga practice where poses are held a minimum of 5 to 10 breath. Throughout practice, you can choose to participate and do the poses on your mat, or sit on your mat and sketch the other participants. All participants will have the option to switch roles, from practicing yoga to continuing to draw, as they wish throughout the practice. This event begins at 1:30 pm and is located at the Yoga Garden in Eau Gallie.
Collie Buddz w/ Inner Circle
Buddz exploded onto the scene a few years ago when critics and tastemakers alike embraced him - Spin Magazine proclaiming, "Buddz proves the pop rule: Catchiness transcends color." From Vibe Magazine to Entertainment Weekly, Collie Buddz made quite an impression with music critics. This concert is at Cocoa Riverfront Park and the fun starts at 5:00 pm.
Lost Leprechaun Irish Pub Crawl
Get your Blarney on! We are the lost Leprechauns! Yes, it is past St. Paddy's Day, that is why it is called Lost Leprechaun. So, keep all your old and newly purchased Irish costumes and accessories handy and visit our usual haunts. Stoll through Cocoa Village and make stops at the Elks Lodge, Norman's Raw Bar, Murdock's, Pub Americana, and Dog n Bone.
Derek Gores: Local Edition
This is the last day to see Derek Gores "Local Edition" exhibit at the Foosaner Art Museum. Gores, internationally renowned collage artist and Brevard County local, takes the concept of play to new heights in Derek Gores: Local Edition, an exhibition featuring his vibrant collages, drawings and interactive works. Known worldwide for his fashion marketing style images built from magazine scraps and snippets, Local Edition offers the best of Gores' most recognizable work, alongside new pieces created specifically for this hometown exhibit. Local Edition is the ultimate manifestation of Gores' adventurous artistic spirit, brimming with the same passion and verve with which Gores approaches our eclectic local arts scene. This exhibition is curated by Serene Kawas McGroarty, artist, art consultant and newly minted resident of Brevard County.
Sunday
Sunday Irish Brunch
The Cottage Irish Pub on Sunday, March 24 from 10 a.m. - 12 p.m. for a traditional, real deal, full Irish Breakfast! If you've been to Ireland, you know what we're talking about! It's a mighty feed, and they've gone to great lengths to ensure it's just like they'd serve 'at home' in Ireland!! Featuring the beloved and infamous 'Full Irish Breakfast' and Irish Mimosas! The finest hangover cure ever to grace the Emerald Isle! Come see for yourself and finish your weekend Irish Shtyle.
Walk with a Ranger
Take a leisurely stroll along side of the Sebastian Inlet while learning about local history, Sebastian Inlet, Indian River Lagoon, plants and animals. Meet at BG's Surfside Grill at 11:00 am.