Things to Do in Brevard County This Weekend: 04/05 to 04/07
Posted by Barbara Zorn on Friday, April 5, 2019 at 4:39 PM
By Barbara Zorn / April 5, 2019
Comment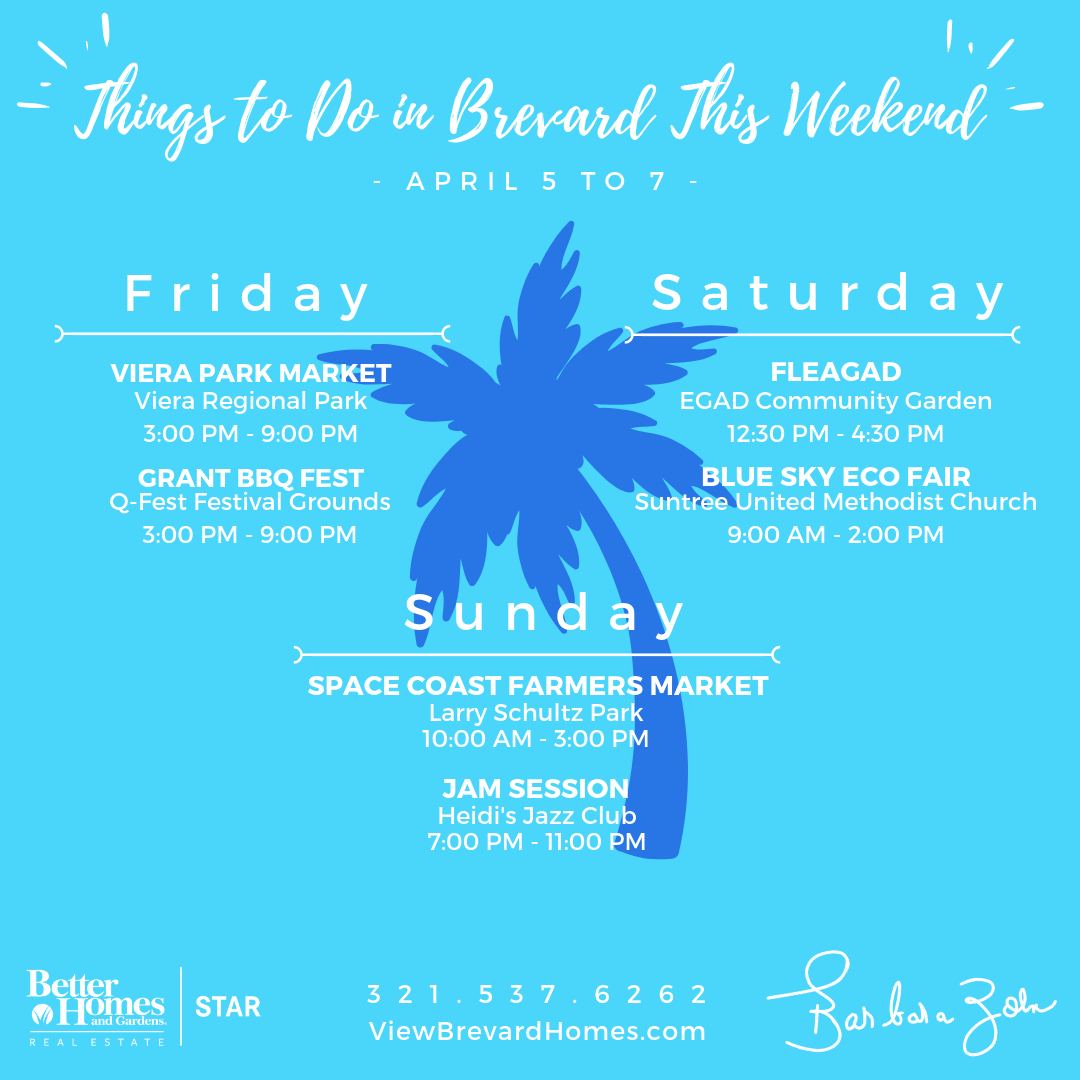 FRIDAY
Viera Park Market & First Friday Food Truck Event
Farmer's market and food trucks! Check out this fun event at the Viera Regional Park - the farmer's market starts at 3:00 and the food trucks start at 5:00
17th Annual Grant BBQ Festival
The 17th annual Grant BBQ Festival will feature live entertainment, great barbecue, a market place and craft fair, and a people's choice contest. There's free parking and free admission to the event! Hours for the event: 3 PM - 9 PM Fri • 10 AM - 8 PM Sat • 10 AM - 5 PM Sun
Located at the Q-Fest Festival Ground.
Eau Gallie First Friday
Start your weekend with fun in Eau Gallie Square every First Friday. Live music in the band shell, arts and crafts vendors, food, beer and wine available. Fun for all ages with something for everyone. Stroll historic Highland Avenue shops, galleries and restaurants. Free and open to the public. Hours are 6:30 p.m. - 9:30 p.m
SATURDAY
Blue Sky Eco Fair and Farmer's Market
Blue Sky Community Garden is hosting its fourth annual Eco Fair and Farmers Market featuring eco-friendly vendors, free kids activities, educational booths, plant sales, food and beverages. The community garden will be open for tours. The garden raises vegetables for local charities feeding the homeless in Brevard. Will be held at the Suntree United Methodist Church and will be from 9:00 AM to 2:00 PM.
FLEAGAD Market is a community sponsored event powered by the merchants of the Eau Gallie Arts District & their supporters to enrich our unique district and invite other creatives, artisans, and entrepreneurs to join us on our journey! This event occurs every first Saturday 12:30 pm to 4:30 pm at the EGAD Community Garden.
Downtown Melbourne Farmer's Market at Riverview Park
Farmers Market featuring local fresh produce, handcrafted soaps, gourmet olives, oils & infused vinegars, fresh pesto, hummus, cheese spreads, local honey, vegan foods, bruschetta, local art, handcrafted items and much more....
Spring Tails thru the Village
Bring your pet and children, too, and join The Animal Sanctuary (TAS), a nonprofit, volunteer organization, for Spring Tails thru the Village, in Cocoa Village. Sponsored by Tails at the Barkery, this event will help raise much needed funds for the animals TAS rescues and the building of Brevard County's first no-kill, no cage, animal sanctuary. The majority of animals who come to TAS have medical conditions resulting from neglect or abuse, some have behavioral and emotional issues, some arrive as strays, suffering from illness and injury, and all are in need of love and attention, which TAS is happy to provide.
Follow the Bunny Hop Map to play the Magic Easter Eggs Game to win prizes! For a $10.00 donation, receive a goody bag and a framed 4x6 color photo with the Easter Bunny.
All pets must be on a leash, or in appropriate carriers, and have current vaccinations and County tags for the safety of our animals and friends.
SUNDAY
Hotel California: A Salute to the Eagles
Back by popular demand! HOTEL CALIFORNIA "A Salute to the Eagles" was founded with the intent of filling the void left by the demise of The Eagles in 1982. This highly acclaimed presentation has a great reputation and excellent references. HOTEL CALIFORNIA has become one of the most sought after acts in the world, with name recognition and true marquis value paralleling today's modern recording artists. Each concert presents an exciting showcase of the Eagles mega-hits such as "Take it Easy," "Heartache Tonight," and "Hotel California" as well as newer releases "Get Over It" and "Love Will Keep Us Alive." The group also performs select titles from the solo works of Don Henley, Glen Frey, and Joe Walsh. This timeless music is appealing to audiences of all ages, bringing back memories and touching the hearts of every generation. So join us now on a trip down a dark desert highway, feel the cool wind in your hair, and experience the Grammy Award winning sounds that defined a generation.
Space Coast Farmers Market - Rockledge
Year round market featuring local artists & crafts, delicious sweet treats, fresh from Florida produce, and fantastic soaps & lotions. Plus, local honey, beautiful plants, rocks, minerals, crystals, fossils & meteorites, an assortment of lovely jewelry and so much more! This event reoccurs every Sunday, 10 a.m. to 3 p.m. at Larry Schultz Park in Rockledge.
Jam Session Heidi's Jazz Club
For over twenty years, Heidi's Jazz Club has been the number one hangout for jazz lovers and jazz musicians on Florida's Space Coast. On Sundays, Heidi's Jazz Club opens their doors for an impromptu jazz session from 7 - 11 p.m. Come join the fun! Free admission except for special performances.