Things to Do in Brevard County This Weekend: 04/12 to 04/14
Posted by Barbara Zorn on Friday, April 12, 2019 at 1:34 PM
By Barbara Zorn / April 12, 2019
Comment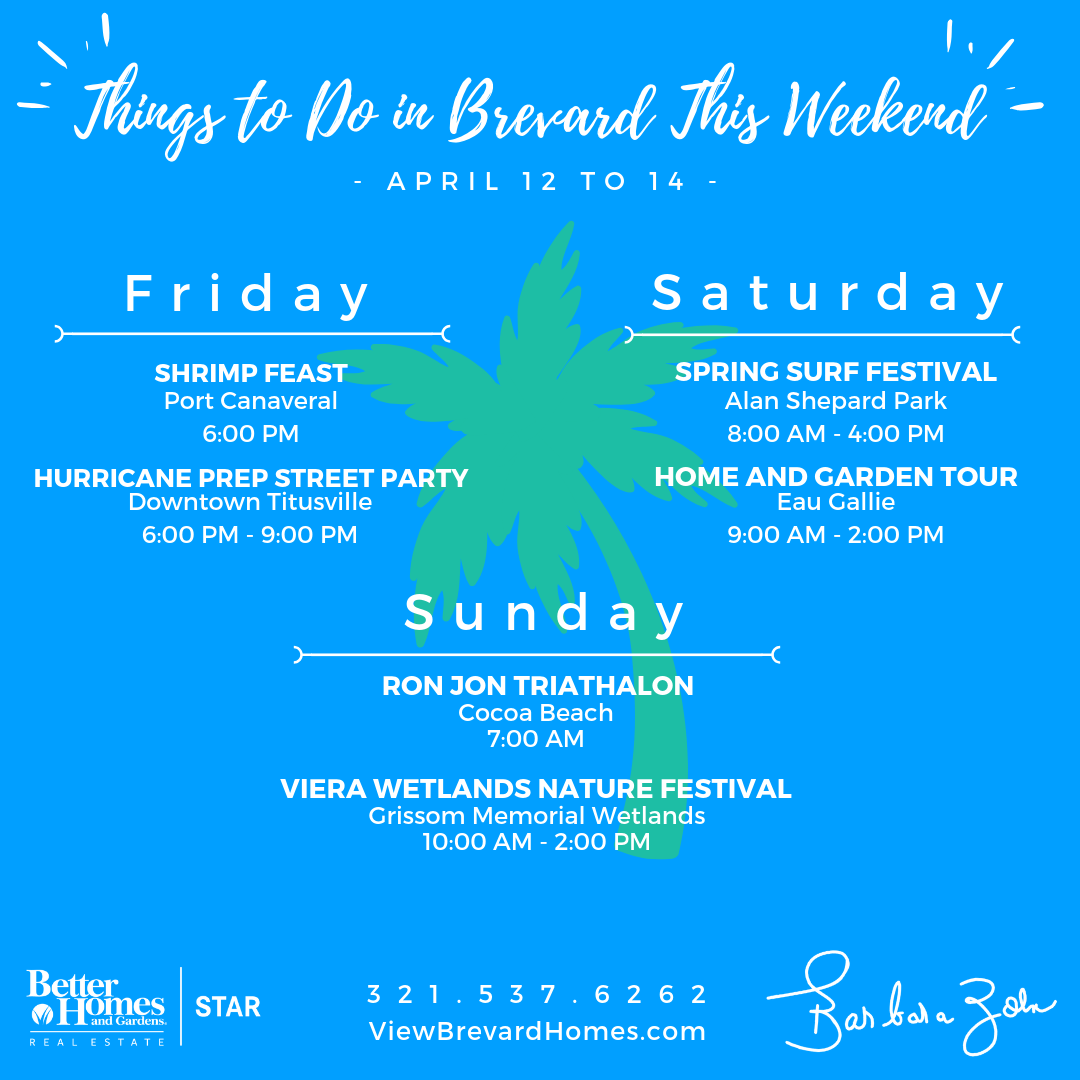 Friday
Shrimp Feast
The Propeller Club of Port Canaveral presents ShrimpFeast. A delicious buffet featuring shrimp prepared in a variety of ways will be provided by Fishlips. The shrimp will be locally sourced by Wild Ocean Seafood. The buffet will include BBQ Chicken and all the fixins. The Beach Bums will be providing live music and the Brevard Hawaiian Dancers will once again give an amazing performance. Each attendee of age will receive two drink tickets for beer or wine with the ticket purchase and there will be a cash bar! Come join the fun with dancing, door prizes, silent auction and a Best Hawaiian Shirt contest! Proceeds go to help the Propeller Club support our community outreach initiatives including our scholarship program for students going on to maritime-related studies and support for the Rockledge High School Maritime Studies program! Located at Cruise terminal 5. Prices vary, check their website to learn moore.
Hurricane Prep Street Party
The Hurricane Street Party is back for 2019! Bring your friends, family, and neighbors to this exciting event taking place in Downtown Titusville. The streets will be closed for local vendors, food trucks, live music from Gypsy Rain, as well as the unique opportunity to speak to experts about how YOU can get prepared for the upcoming hurricane season. This event is from 6:00 PM to 9:00 PM.
Saturday
Spring Surfing Festival
Join the Special Olympics Florida Spring Surfing Festival this April 13, 2019 at Alan Shepard Park in Cocoa Beach from 8:00 AM to 4:00 PM. This is a celebratory event open to surfing athletes across the state.
Cocoa-Rockledge Garden Club Home & Garden Tour 2019
Tour the historic homes of Eau Gallie and enjoy the beautiful flora that accompany them. The tour will make stops at the Rossetter House Museum, St. Johns Episcopal Church, the Mitchell Home, the Bennett Home, Victoria Landing, Woods Home, and Houston Street park. Tickets can be purchased online, at our office, or at the event. The tour starts at 9:00 AM and you are free to move as fast or slow as you want.
Cape Canaveral Founders' Day & Chowder Cook-off
A Celebration of all things Cape Canaveral!
Live music with Steel Kick'n
Community chowder cook-off
Touch-A-Truck
Local history + art organizations
Bounce houses + obstacle courses
Home Depot Kids Workshop
Trackless Train Rides
5th Annual Brewmaster's Invitational Beer Festival
The 5th Annual Brewmaster's Invitational Beer Festival takes place on April 13, 2019 at Cruise Terminal #1 in beautiful Port Canaveral. This year, we've added to our ever-growing list of breweries, beers, artists, food and entertainment to bring you a beer festival that is grander than ever. The festival will feature more than 50 breweries, allowing thousands of attendees to sample craft (and not-so-craft) beers from all over the world. Amazing beer is just the tip of the iceberg at this year's Brewmaster's Invitational. There will be live music, local artists, food trucks, vendors and much, much more
East Coast Viera Egg Hunt
East Coast Viera, Viera Charter School, and Viera Pizza have teamed up for Brevard County's BIGGEST Easter Egg Hunt! Must Register on Eventbrite and be present at the event for a chance to win prizes!
Happening on Saturday, April 13, 2019 at 11 a.m. you can enjoy free food, fun, and over 20,000 eggs!
Children ages 0 to 12 are invited to enjoy FREE, Games, Inflatables, Music, and FREE PIZZA FOR THE WHOLE FAMILY FROM VIERA PIZZA (2 free slices per person)!
**Separate egg hunts will be held for children 0-2 yrs old, 3-5 yrs old, K-3 grade, 4-6 grade and special needs! **
All children will be accompanied by parents during the egg hunt for safety. This event is FREE and open to the public!
Sunday
Space Coast Classic 15K & 2 Mile
Race benefits The Children's Hunger Project and Quest Elementary School.
Join us for the 33rd running of this Space Coast Runners road race at a brand new location!
ONLY 15K race in Brevard County! 9.3 miles of fun racing brought to you by Space Coast Runners!
BIG classic finisher medals for 15K & 2 Mile participants!
Free race shirt guaranteed with paid early registration
Free SCR Youth Series Fun Run for ages 12 & under
Early registration ends on 03/31/2019
Awesome post-race party, refreshments & awards
Rain or shine event, no refunds issued
Runner of the Year Series #8
The Ron Jon Cocoa Beach Triathlon has established itself as a fun and challenging event and as one of Coastal Florida's favorite early season triathlons.
Always held the second weekend of April, this event draws a good mixture of Floridians and triathletes from more northern states anxious to escape the cold and get in a springtime race. The race begins at 7:00 AM and starts and finishes near the Cocoa Beach Country Club.
Viera Wetlands Nature Festival
The 10th Annual Viera Wetlands Nature Festival is a 2-day event at the Ritch Grissom Memorial Wetlands in Viera, Florida, sponsored by The Viera Company and the Viera Community Institute. The event is a fundraiser, with eco-friendly and educational vendors, exhibits, classes and tours, to learn and explore the beautiful setting and highly visited site here in Viera. Scheduled tours and classes are available during the 2-day event with professionals in photography, environmental education, staff from Brevard County's Natural Resources Management Department and Viera Wetlands Rangers. Tours and classes are offered with donations to support the maintenance of the site. The festival and vendor area will be open from 10:00 AM to 2:00 PM.