Things to Do in Brevard County This Weekend: 12/14 to 12/16
Posted by Barbara Zorn on Friday, December 14, 2018 at 2:28 PM
By Barbara Zorn / December 14, 2018
Comment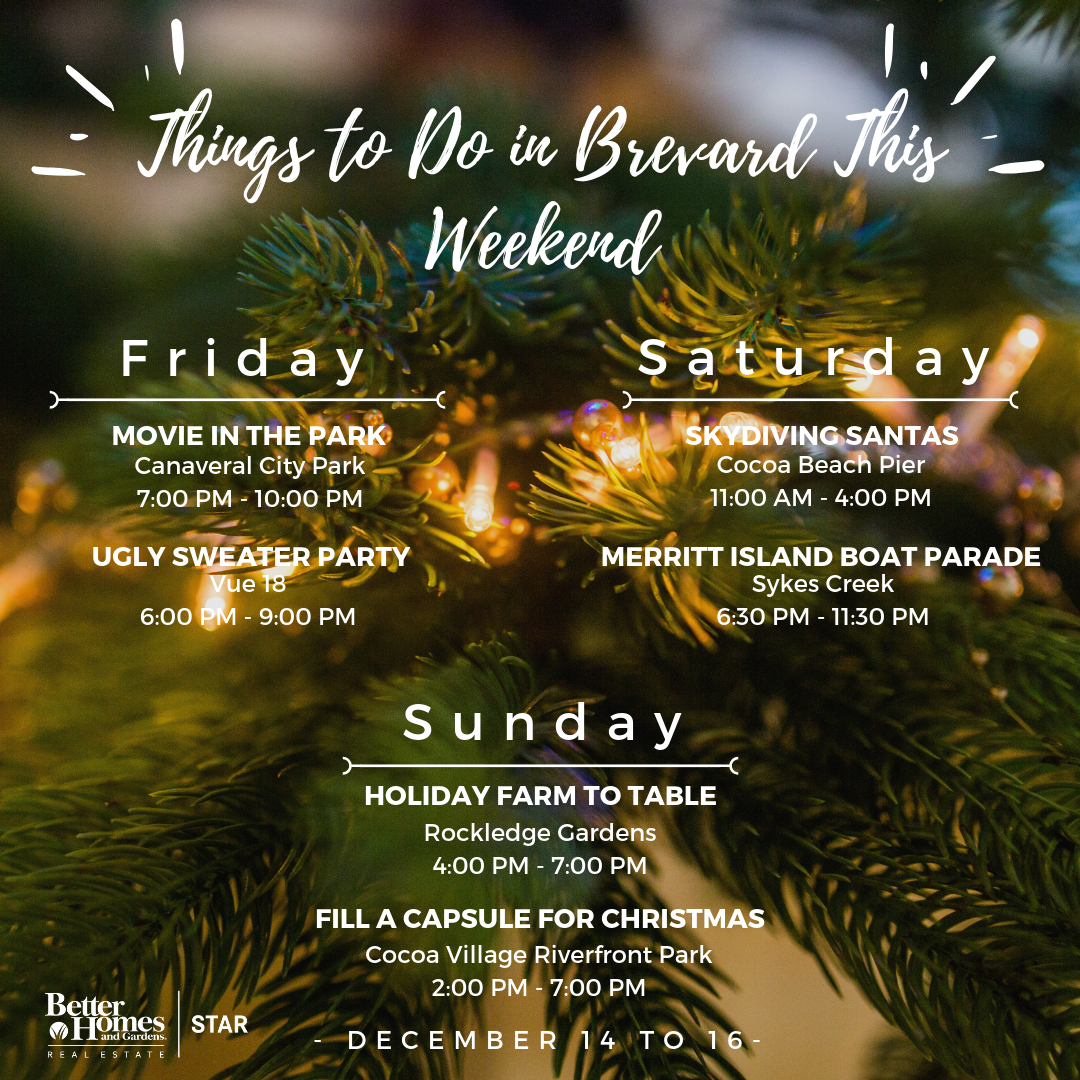 Things to do in Brevard this weekend!
It's the time of year, when there is soething going on every which way you turn! Spend more time with family and friends making memories this year by checking out some of the local events.
All weekend, checkout the famous Space Coast Lightfest at Wickham Park. This is a crowd pleasing event for all ages and abilities. Enter the park and drive through the mile long course filled with million of twinkling lights. This year they have partnered with Toys for Kids and if you bring an unwrapped toy to donate to the cause, there is a discount at the gate.
If you want to stay inside, but still find the magic of the season, throughout the weekend are several plays including the Willy Wonka Play at the Henegar in Melbourne and The Nutcracker at the Historic Cocoa Village. Other inside ideas include the Holiday Art Sale at the Brevard Cultural Alliance where you can come out and get inspired with local art from the area.
Holiday favorites are also happening this weekend including a chance to decorate cookies with Santa at Travis Park from noon till 7pm, this is an event you need to RSVP to. You can also catch Santa at breakfast at BGs Surfside Grill & Adventures. Then there is also the 10th Annual Family Christmas Extravaganza from 11-4 on Saturday at Fred Poppe Regional Park in Palm Bay. This is a community event that is completely free. Including food, train rides, giveaways, and live entertainment. Another Breakfast with Santa will also be at the Rockledge Country Club. There will be an opportunity of photos with Santa as well as a reading of the Night Before Christmas.
After breakfast, come to the beach to watch Santa and his elves skydive out of helicopters and planes while they attempt to land in a giant inflatable Santa chair. This is an event that you should not miss. It takes place each year at the Cocoa Beach Pier. Watch professional skydivers demonstrate various disciplines and be part of this community must see.
If you are looking to work off some of those pies and extra desserts, there is also a Jingle Bell to-miler in Satellite Beach to support the school running team. Every ability from walking to running is invited in this inclusive event. Feel free to dress up as well! The race starts at 5:45pm.
In addition, there are multiple holiday boat parades on Saturday. One will be in Merritt Island starting at 630pm on Sykes Creek. The second will be in Satellite Beach in the grand canal starting at 6pm. If you missed Cocoa Beach's boat parade last weekend, you will not want to miss these this weekend. It is a Brevard County tradition this time of year. Boats are decorated from bow to aft featuring lights, costumes, and more.
Downtown Melbourne has things going on all weekend as well. Saturdays through Christmas the shops are open late and each feature special Holiday displays and live entertainment in the streets and shops. You can see everything from musicians to choirs while you get all your holiday shopping completed. Also in the area during the day time is a Farmers Market featuring Vegan friendly booths. There will be fresh produce, local foods, and food trucks all gathered here.
Additionally, Parents' Night Out 2018 will be taking place in Titusville from 6-10pm. Drop the kids off for a night of food, fun, crafts, and games at the YMCA in Titusville and enjoy a night out.
If you're looking for something completely new, there is a Free Olive Oil and Vinegar tasting event going on at the Olive Trader from 11-6pm. Taste over 64 varieties of EVOO and vinegars and find your favorite pairings. Show off your knowledge of this classic duo at your next social gathering. Another unique opportunity will be at the Rockledge Gardens, where they will be hosting a Little Bugs Club. There kids aged 4-12 can learn about gardening and how to create art in every garden.
Stay Safe this weekend and enjoy your holidays!