Things to Do in Brevard County This Weekend: 12/23 to 12/25
Posted by Barbara Zorn on Sunday, December 23, 2018 at 9:44 AM
By Barbara Zorn / December 23, 2018
Comment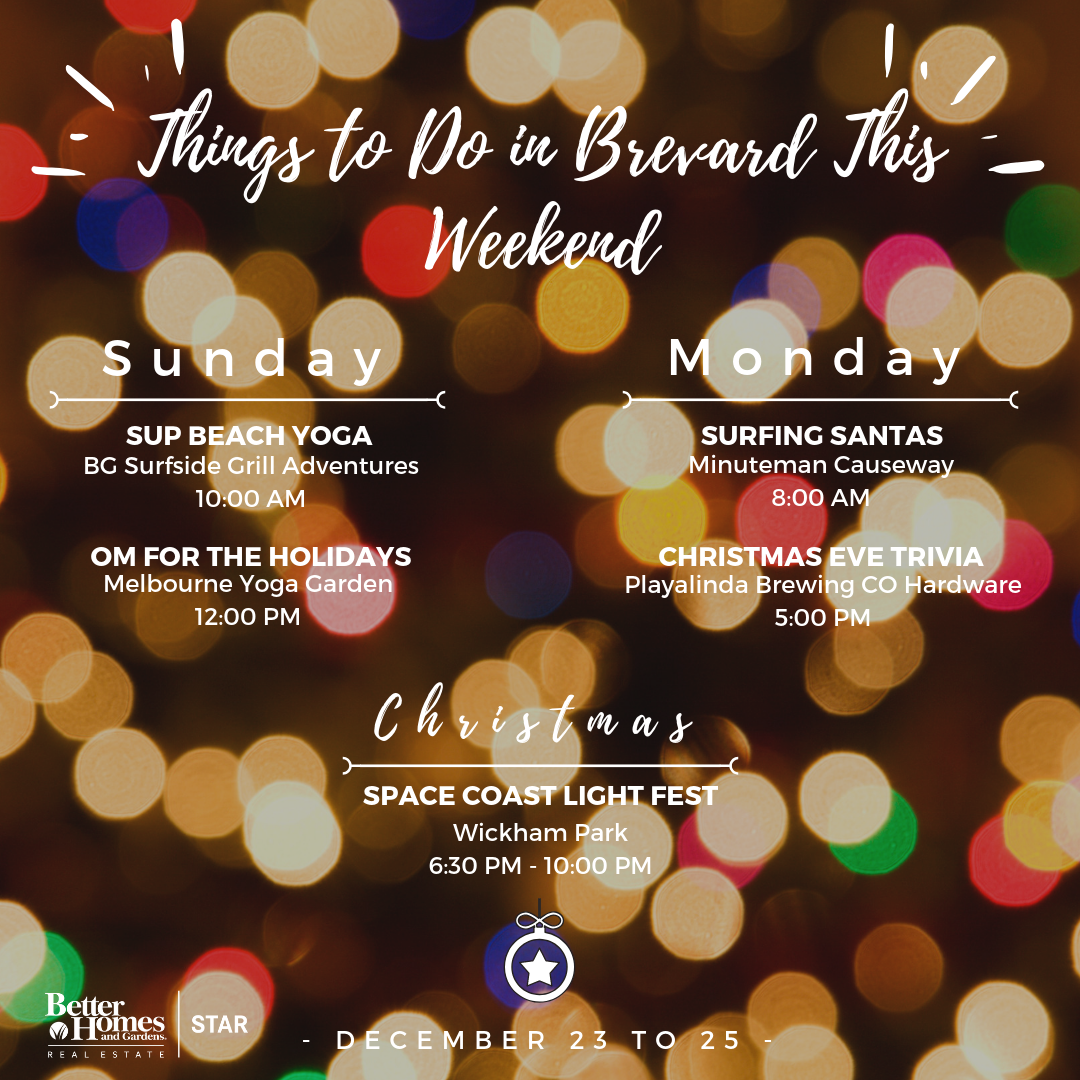 Happy Holidays everyone! I know things are fast approaching with family getting into town, last minute shopping, and organizing get togethers. Instead of worrying how the 25th will turn out and if you'll have enough cranberry sauce, take some time to really remember what this time of year is all about. Spend some time with these loved ones, yes, even your mother-in-law. Take the whole family out to some of these events around our community.
All throughout the weekend enough things like the Space Coast Lightfest. This event is located at Wickham Park and runs through till the first of the New Year. Don't miss this Brevard County Classic. It truly is one of those things that anyone can go to see since you sit in the comfort of your own vehicle and drive throughout a course of 3 million twinkling holiday lights on display. One trick to remember is that once you are in the park, you can continue going around the course as many times as you like. There is a bathroom station where you can pull off. My family always enjoys changing out the driver and which side of the car you're seated so you can make sure not to miss anything! Remember, they partnered with Toys for Kids this year, please bring an unwrapped gift to get a discount at the gate. This event is set up by volunteers and all proceeds made go to Boy Scouts of America. If you know a boy scout in the area, don't forget to ask which light display is theirs!
Starting today and running till Sunday is Jolly Days at Brevard Zoo. This event runs from 10-3 and features animal encounters, games, crafts, and a DJ! Santa and Mrs. Claus will also be making an appearance around lunch time for photos. Did you know that the Brevard Zoo is the largest community-built zoo in the world? Our dedicated community raised over $3.5 million and recruited more than 16,000 volunteers to construct this zoo and open its doors in 1994.
If you are looking to do something fun and new to do on today, Friday, check out some of these events. In Melbourne at the Yoga Garden on Pineapple Ave, is Faith Flow at 730am. This is a Vinyasa style yoga, which is gentle featuring reflective pray. It is perfect way to start your day with mindful intentions. Also on Friday is something for the littler ones. At the Franklin T. DeGroodt Library in Palm Bay will be Tales For Tails. This event is one where your children can choose a book from the library to read to a real live therapy dog. Participation is first come first serve so be sure to arrive early! It starts at 3pm and runs till 4.
Another event this Friday is the Holiday Dance Party. It is located in Melbourne at the Space Coast Field of Dreams from 7-10pm. This event is family friendly and will have music, dancing, pictures with Santa and games. Lucky's Meat Market is also providing free hot cocoa and Christmas cookies.
Fish Fry Fridays is also happening today at the Wild Ocean in Titusville. Enjoy local, and battered, and fried wild fish.
On Saturday, tomorrow, don't forget to check out some of these events.
At 7pm in Sebastian Inlet State park, there will be a Night Sounds concert series. It will showcase the 20th Street Jazz Band, mostly playing music from the big band era, but also some more recent tunes. This is sure to be one of those nights you wear your dancing shoes. The concert is also free with regular park entry fees.
Further up the coast starting at the same time in Cocoa at the Brevard Cinema House is Santa Claus Conquers the Martians. This event is a comedy night. Before the movie there will be fun holiday improv and comedy that will continue with hilarious antics throughout the show. There will also be a free photo opportunity, but don't count on it being your classic Santa.
For a more classic holiday experience, the King Center for Performing Arts in Melbourne will be performing A Christmas Carol. This event also starts at 7pm. This is a beloved holiday story enriched with thrilling ensemble music and is told in a way to excite all ages.
If you've had too many of Santa's cookies already, you can always participate in the Run, Run Santa. This is a 1 mile race at 730pm at the Calvary Chapel in Viera. This event is for every ability and features runners in Santa costumes, it is a sight to see even if you are not participating as a running Santa.
On Sunday, try some of these kickstarters for the holidays.
Wake up and enjoy a yoga session on the water, yes you read that right. Sup Yoga Class will be taking place at 10am at Bg Surfside Grill Adventures. No need to have experience in yoga or SUP (stand up paddleboard), they will teach you everything you need to know in this 1.5 hour lesson.
If you aren't interested in SUP, there is also Om for the Holidays in Melbourne at the Yoga Garden. This class is at noon and features a way to relax with all the craziness of the holidays.
On Monday, Christmas Eve is my favorite event of the season.
Every year on Christmas Eve thousands of Santas dawn the beach of Cocoa Beach down Minuteman Causeway to surf or watch Santa catch some waves. For the past nine years this event has taken place. Watch as hundreds of surfers dressed as Santa ride the waves at this free event. There is also a costume event where the crowd can participate, so dress up in your best holiday outfit for a chance to win some prizes. The money raised from t-shirts and donations goes to Grind for Life, a local cancer support group and the Florida Surf Museum.
Later in the day, at Playalinda Brewing Company- Hardware Store at 5pm will be Christmas Eve Trivia. Three rounds of holiday-themed trivia sure to bring your family into the spirit.