Things to Do in Brevard County This Weekend: 6/28 to 6/30
Posted by Barbara Zorn on Thursday, June 27, 2019 at 4:52 PM
By Barbara Zorn / June 27, 2019
Comment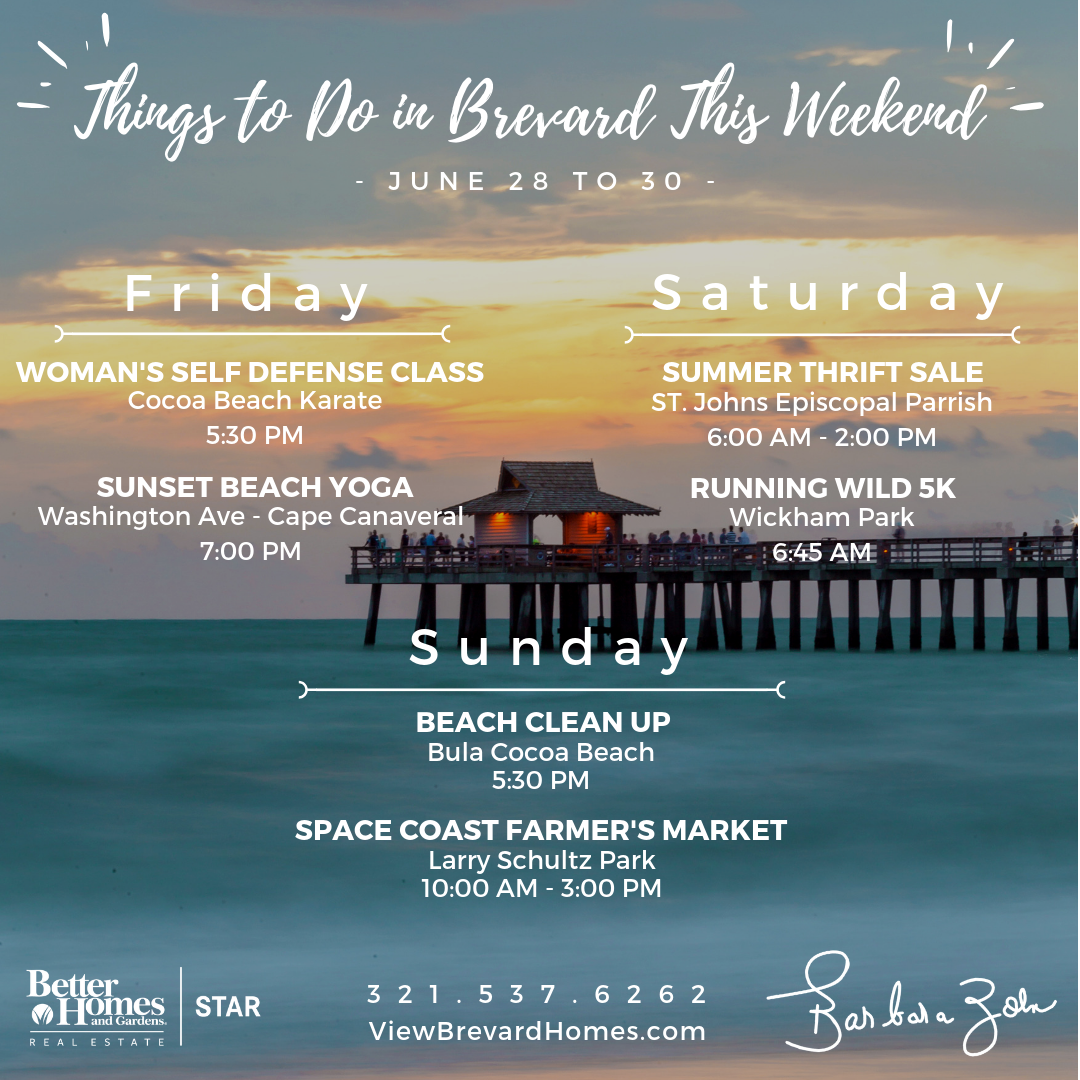 FRIDAY
---
FREE Women's Self Defense Class
FREE women's self defense class by Cocoa Beach Karate, Friday June 28 @ 5.30pm. Space limited so RSVP on here. Learn the basics of assault prevention and self defense. CBK has been providing karate and self defense classes beachside at two locations since 2002
Friday Sunset Beach Yoga
Friday Night Beach Yoga is at the Washington Ave Beach access next to Cherie Down Park in Cape Canaveral, FL every Friday night at 7:00 pm.
This class is donation based and is perfect for all levels including both experienced and first-time yogis.
Beach yoga offers several unique benefits. The salty air is purifying for the body and is especially beneficial for the skin and lungs. Asana (posture) practice in the sand offers an added challenge to balance yet also a unique opportunity to massage the feet. Practicing where the sea meets the land also makes managing our monkey minds a little less daunting of a task!!
SATURDAY
---
Summer Thrift Sale
Church Yard/Garage Fund Raiser at. Historical St. Johns Episcopal Parrish (Leila) Hall in 'Old Eau Gallie' from 6:00 AM to 2:00 PM.
Across from Eau Gallie Yacht Basin Harbor. 610 Young Street 32935
Florida Wildlife Hospital's Running Wild 5K
Inaugural Running Wild 5k Walk/Run will meander through established paths of native Florida at Wickham Park in Melbourne at 6:45 AM. Family friendly event will include meeting some of our ambassador animals at the end of the race. Our goals include: raise awareness of wildlife rehabilitation, increase our community partnerships and raise funds for our facility. With only a small paid staff, FWH boasts 200+ volunteers that are trained to assist technicians with its mission. FWH operates primarily on donations, membership, grants and events like this and does NOT receive any government funding.
Beach Barre Bootcamp
Summer is around the corner! This 45 minute beach barre bootcamp class pairs cardio blast training with body strengthening exercises that tone your body and improve your mobility. Bring a friend and join us at the beach. 8:30 AM to 9:30 AM at Hightower Beach Park in Satellite Beach.
Designed for all fitness levels
Please bring a towel, water, a friend, and get ready to have some fun
Cost: $10/person
Long Doggers Beachside Bash feat. CITIZEN COPE - INDIALANTIC
Deuterman Productions and Long Doggers Presents Beachside Bash feat. CITIZEN COPE. Gates open at 5pm - Nance Park in Indialantic.
"$1 from every ticket will be donated to Mimi Woods Foundation in the US that support enriching youths in need through arts and education. For more information visit www.citizencope.com"
SUNDAY
---
Beach Clean Up
Join BULA Cocoa Beach for a beach clean up. Free KAVA to thank you for your efforts! Meeting at BULA COCOA BEACH on Sundays for Sunset. Will you come join us? Stop by after Beach Clean Up, hang out, and have some Kava.
Space Coast Farmer's Market
Year round market featuring local artists & crafts, delicious sweet treats, fresh from Florida produce, and fantastic soaps & lotions. Plus, local honey, beautiful plants, rocks, minerals, crystals, fossils & meteorites, an assortment of lovely jewelry and so much more! This event reoccurs every Sunday in Rockledge, 10 a.m. to 3 p.m.